Priorities and Intentions of Working-Students Working amidst COVID-19 Pandemic
Abstract
The study explored the priorities and intentions of working students who manage the challenging roles of being a student and a worker. This qualitative study used a descriptive phenomenological design. Five (5) working students from a state university volunteered to be the informants of the study and were selected through the snowball sampling technique. Data collected were analyzed using Braun and Clarke's six-step thematic analysis resulting in five themes. Results showed that working while studying was perceived to be challenging
yet financially helpful. Students faced time constraints with school tasks, leading to poor grades. Hence, working students tended to have difficulty managing both roles, and the pandemic forced them to work that negatively impacted their academic performance. The study suggested that universities provide more flexibility for working students with options to adjust study loads for working students.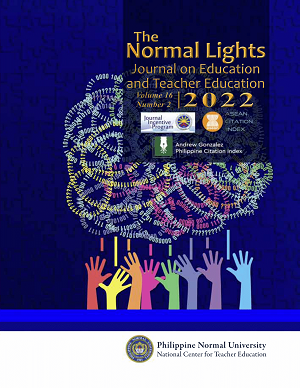 Downloads
License
Copyright (c) 2023 The Normal Lights
This work is licensed under a Creative Commons Attribution-NonCommercial-NoDerivatives 4.0 International License.