Comprehension Concerns: Signs and Signals for Improving a School-based Reading Intervention
Keywords:
comprehension, remedial instruction, reading difficulties, school-based reading intervention program, teaching reading
Abstract
This qualitative case study explores the school-based reading intervention in a public elementary school by analyzing how the reading teachers viewed the intervention's program objectives, assessed learners' reading levels, employed reading strategies, and utilized reading materials. Through the narrative analyses of interview data coupled with triangulation of observation notes and program artifacts, it was found that the teachers' reading objectives and strategies focused mainly on the development of word reading skills while providing little to no attention to the improvement of comprehension skills. Also, piloted teacher-made and adapted materials may be more beneficial if subjected to further testing and review to be grade-level appropriate and diverse learner sensitive. The reading teachers' illustrative cases, lack of literacy-relevant resources, effective strategy, and assessment in this study may inform school stakeholders, drivers, and the school intervention program for an all-out engagement towards a well-programmed road promoting literacy for all at the school level.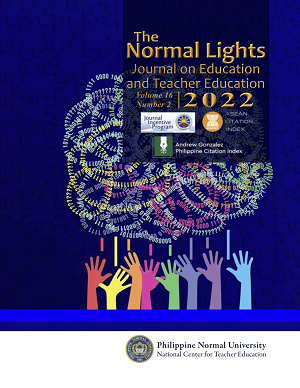 Downloads
License
Copyright (c) 2022 The Normal Lights
This work is licensed under a Creative Commons Attribution-NonCommercial-NoDerivatives 4.0 International License.