Reading Strategies Used by Elementary Students When Comprehending Digital Texts
Keywords:
digital/online reading, metacognitive reading strategies, reading comprehension, multimodality
Abstract
Filipino youths are shifting away from reading printed texts in the 21st century as more information becomes accessible via the Internet. This study aims to determine the digital reading comprehension levels of Grade six pupils, their use of online reading strategies, and whether proficient and less proficient digital readers use different reading strategies. One hundred seventy-four sixth-grade students at a public elementary school in Naga City, Philippines, took digital reading comprehension and strategy-use tests during the 2019-2020 academic year to achieve this purpose. Of the three types of online reading strategies (global, problem-solving, and support), the elementary students reported employing more support strategies than the other types. Moreover, proficient digital readers highly use reading strategies across the three types, while less-proficient digital readers employ the strategies moderately. However, most participants showed a lack of proficiency in digital reading skills. It is recommended that literacy teachers teach the judicious use of online reading strategies to assist elementary students in comprehending digital texts.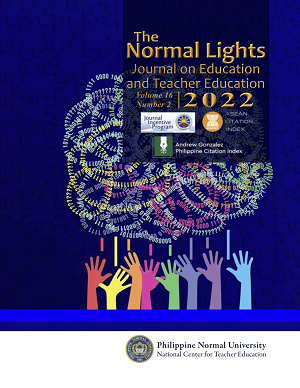 Downloads
License
Copyright (c) 2022 The Normal Lights
This work is licensed under a Creative Commons Attribution-NonCommercial-NoDerivatives 4.0 International License.