Parents' Perceptions in an Institutional Flexible Learning Program
Keywords:
class time, facilitation of instruction, flexible learning, home-school communication, parents' perceptions
Abstract
Parents play a vital role in supporting their children's learning. This paper mainly explored parents' perceptions of a flexible learning program in one laboratory school in Metro Manila. Convenient sampling was used to identify the participants. There were 86 parents who voluntarily participated in this study via survey which utilized a convergent parallel mixed-method research design. For the quantitative data, descriptive statistics was employed. Thematic analysis was used to analyze the qualitative data. Relevant findings revealed three themes namely, home-school communication, facilitation of instruction, and class time. Online communication tools can be maximized to provide feedback, monitor learners' status, and set up consultation time. The facilitation of instruction provided opportunities for active participation, independent learning, and production of creative outputs. Class time may be designed to provide sufficient synchronous meetings for learning and to accommodate parents' schedules. The results of the study provided insights to revisit policy implementation in flexible learning and developed preparedness of parents in supporting their children's learning.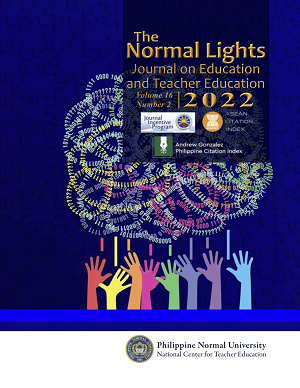 Downloads
License
Copyright (c) 2022 The Normal Lights
This work is licensed under a Creative Commons Attribution-NonCommercial-NoDerivatives 4.0 International License.