Gender-Fair Music Education Practices in Junior High School
Keywords:
gender, gender-fair practices, music education, qualitative description approach, triangulation
Abstract
This study explored the gender-fair music education practices of three varying school types (laboratory school, private school, and public school) offering junior high school (JHS) in the National Capital Region. Employing qualitative descriptive research, the researchers collected three types of data (interview, document, and observation/field notes) and subjected them to a two-cycle coding procedure under the lenses of social constructivism and socialist feminism. The results of the study revealed 10 practices, summed up and labeled as GENDER-FAIR, that can be used as foundations to substantiate gender-fair music education in JHS. Qualitative triangulation procedures, in the within-school and crossschool levels, established the validity of the findings. The study acknowledged that educational institutions do their part in promoting and reinforcing gender equality and equity to embrace inclusivity in education. The study suggests that future research endeavors be geared towardsthe exploration of gender-fair practices in other disciplines and grade levels.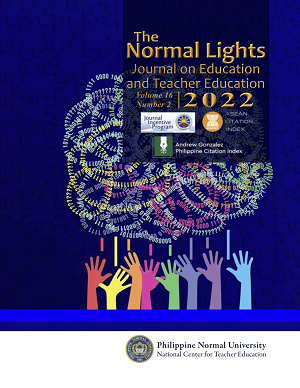 Downloads
License
Copyright (c) 2022 The Normal Lights
This work is licensed under a Creative Commons Attribution-NonCommercial-NoDerivatives 4.0 International License.