A Phenomenological Inquiry of Graduate School Students' Silence in Online Learning during the COVID-19 Pandemic
Keywords:
graduate education, online learning, phenomenological inquiry, silence, struggles
Abstract
COVID-19 pandemic transformed the way how Higher Education Institutions deliver the teaching and learning process in an online modality. This phenomenological study inquired the lived experiences and the contexts of graduate school students' silence in online learning during the pandemic. Transcendental research design following Moustakas's Stevick-ColaizziKeen process was utilized to generate the emerging themes and essence of the study's findings. Eight graduate school students from Higher Education Institutions (HEIs) in Northern Mindanao were selected as participants through purposive sampling. Analysis of data revealed that silence for graduate school students means emotional exhaustion and lack of academic preparedness due to physical, cognitive, and affective factors in online classes. It reflects their struggles in online learning which is the essence of silence. Silence in online learning without these struggles cannot become an experience of silence. Furthermore, their experiences of silence are diverse depending on how they are shaped or re-shaped by their current contexts. As the study speaks a volume of unfavorable insights on the meaning of silence, an intervention on students' wellbeing may be proposed to foster a positive disposition in an online learning environment.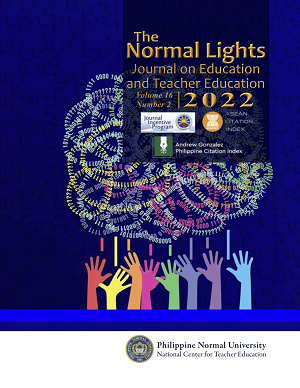 Downloads
License
Copyright (c) 2022 The Normal Lights
This work is licensed under a Creative Commons Attribution-NonCommercial-NoDerivatives 4.0 International License.