Teachers' Status in Vietnam: Social, Historical, and Cultural aspects
Keywords:
Cultural factors, historical, social, status, teaching profession, Vietnam
Abstract
The article examines the Vietnamese teachers' high status in its society to identify the main attributes of its formation. The article employs qualitative historical analysis as a methodological approach to gain a clear understanding of different factors through different periods of time. The study analyzes written and oral sources of documents that address national, regional, and global perspectives on teacher status in society. Results of the historical analysis identify the critical importance of social, historical, and cultural factors in the formation of teachers' high status including the stable and significant roles of teachers in society, the maintenance of their roles throughout the long history of the nation, and the ever-changing performance so that they could best contribute to the nation and to the people. It is expected that findings in this study draw the attention of other countries as a useful reference while they are dealing with the serious decline in teachers' social status.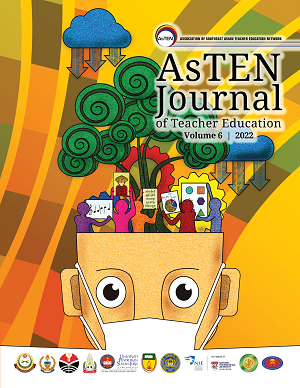 Downloads
License
Copyright (c) 2022 Association of Southeast Asian Teacher Education Network (AsTEN) Journal of Teacher Education
This work is licensed under a Creative Commons Attribution-NonCommercial-NoDerivatives 4.0 International License.