Students' Perceptions on Mathematics Assessment in Remote Learning
Keywords:
assessment, academic honesty, Math anxiety, perception
Abstract
The emergence of the COVID-19 pandemic caused classes to move online. This study used a quantitative design that aims to assess students' perceptions in mathematics assessments based on their perceived level of Mathematics anxiety, preferred assessment, and academic honesty in remote learning while highlighting the differences in gender and sections through a constructed survey questionnaire. The 90 Grade 9 students in a private Catholic school in Manila sampled using a convenience sampling process were surveyed using the aforementioned questionnaire. Descriptive and inferential statistics were used for data analysis. Results revealed no significant difference in students' perceptions of mathematics assessments according to sections. The same effect was observed in their perceptions of reviews by gender, except for mathematics anxiety and neutral preference. The study suggests that teachers use suitable assessments targeting the needed learning competencies to better measure students' academic performance.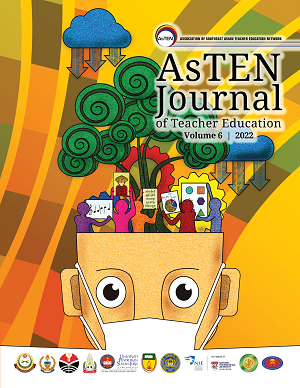 Downloads
License
Copyright (c) 2022 Association of Southeast Asian Teacher Education Network (AsTEN) Journal of Teacher Education
This work is licensed under a Creative Commons Attribution-NonCommercial-NoDerivatives 4.0 International License.