Effect of Environmental Knowledge and Awareness on Green Behavior: Testing Behavioral Intentions, Environmental Attitude, and Green Commitment as Mediators
Abstract
Schools have recognized the significance of incorporating sustainability into their curriculum to make a more visible societal and environmental impact. This causal research study determined the effect of environmental knowledge and awareness (EKA) on the green behavior (GB) of public elementary teachers. A simple random sampling technique is utilized to identify 89 study participants for the survey. For data analysis, regression and process mediation are employed. Results revealed that the more knowledgeable and aware the teachers are about the environment, the more they will participate in the environmentally friendly practices and programs of the schools. The relationship between EKA and GB is significantly and fully mediated by behavioral intentions (BI). Furthermore, this relationship is significant but partially mediated by environmental attitude (EA) and green commitment (GC). Therefore, this study suggests that the Department of Education develops the environmental knowledge and awareness of teachers through the practical application of Education for Sustainable Development with the help of project-based learning competition, environmental education-focused modules, and the creation of school-based programs.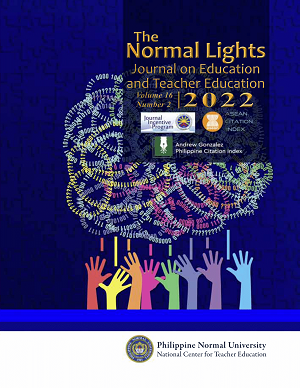 Downloads
License
Copyright (c) 2023 The Normal Lights
This work is licensed under a Creative Commons Attribution-NonCommercial-NoDerivatives 4.0 International License.